Traditional Balinese dancing is an important part of Balinese culture, and we at Reef Seen are proud to help the children of Pemuteran carry on this beautiful tradition. Young girls and boys gather at Reef Seen Divers' Resort twice a week to train with the older, more experienced dancers training the younger, newer ones. Guests are welcome to join the dancers and step into traditional Bali. Our staff will be happy to tell the tales of some of the dances, and on most Saturday evenings you can watch the Dance Group perform at one of the other nearby hotels.
Watch and ask about "Bedawang Tasku" – the "Spirit of the Turtle" dance which was created by our dancers and is the only Bali dance to honour the sea turtles.
Practice Sessions: Saturdays/Sundays 2:30pm – 4pm
Performances: Saturdays 7:30pm
The Dancers are available for a special performance, either here or at your hotel, please send us an email for details.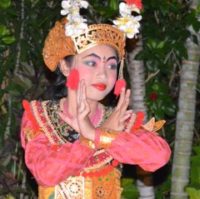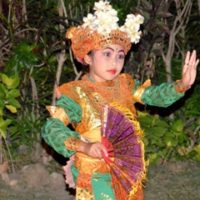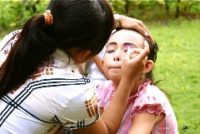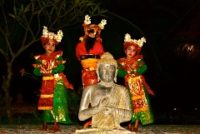 You can help too!
The dancers would love you to help them buy material for costumes and make-up