The Boats
The traditional wooden outrigger, Reef Runner is ideal to go to the local dive spots.
The larger Reef Spirit is generally the boat for the Menjangan Island diving trips. You can sit up on the deck take in the breathtaking views of Bali and Java, getting occasionally splashed from the sea – remember to be generous with the suncream as you sit in the cool of the ocean breeze because we are only 8 degrees south of the equator and the sun is very strong.  If the open air is not your way then there is a cabin for shade and cushioned seating.
Reef Nymph, a single engined speed boat capable for local and Menjangan dive/snorkelling trips.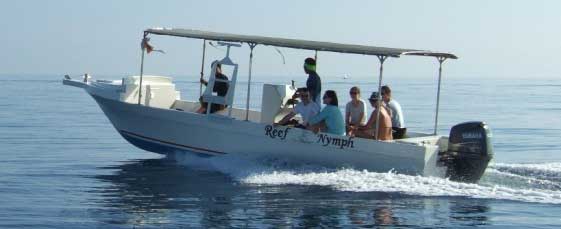 Equipment
We use 12 litre Aluminium cylinders with fixed, international/yoke style valves pressurised to 200bar using our 3-phase air compressor.
Our dive prices include provision of tanks and weights.
For everything else you may need, we have a good range of equipment to rent if you choose not to bring your own.
BCD, 3mm wetsuit, Mask and fins to cater for most adult sizes – if your sizes differ significantly from standard clothes/shoe sizes please check with us for availability.